2014 Legislative Session Success!
We did it! A historic investment: $100 million for housing! 
Thank you for your passion and compassion for families, individuals, and youth experiencing homelessness. This accomplishment shows that if we work hard and together as a community, we can make lasting change!
Thank you for your calls, visits, emails, postcards, and all other contacts to legislators and the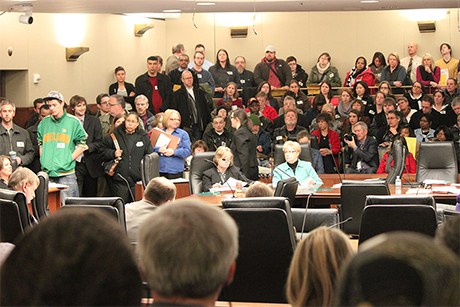 Governor. It is because of these thousands of contacts made by you and the people across Minnesota that there is now $100 million for housing. This bonding investment for housing is especially important now, with substantial need for affordable housing in communities large and small all across Minnesota.
This morning, Governor Dayton officially signed the bonding bills passed by both the House and Senate last Friday. As a result of this bill:
Homeless individuals and families will experience the security of stable, supportive housing.
Housing affordable to low income seniors, people with disabilities, families, and others will be preserved for years to come.
And communities hard hit by foreclosure will have additional resources.
In total, over 5,000 households will be impacted!
A bipartisan group of lawmakers in both chambers championed housing in the bonding bill, along with people from over 100 organizations in the Homes for All alliance, including people of faith, teachers, mental health advocates, and local government officials as well as housing organizations.
Again, thank you for your diligence and hard work to make this happen! It is amazing and inspirational to work with you! Looking forward to what is next!
Save the date for the Unite to End Homelessness event on October 12, 2014 from 2pm-5pm at Central Lutheran Church. We will gather to be inspired, to organize, and to act together. See you there!