Journey to Home
"It take 10 people to build a movement." – Rep. Frank Hornstein
In an inspiring evening, people from the DCEH congregations came together to be a part of making a difference in our community, to understand advocacy, and to learn how our legislative agenda will end homelessness for youth and families.
Rep. Frank Hornstein broke down
advocacy from overwhelming to an important resource for your Legislator. "There is good news and bad news. Overall, few people participate in the process, so even a few voices heard make a great deal of difference." Hearing from constituents is a critical part of the budget process and we need to hear from the people of faith, who act as the moral compass. Collectively, all the people in the room are the ones who are going to make a difference!
Liz Kuoppala, from the Minnesota Coalition for the Homeless, helped us to understand how little of the budget goes to housing and programs to support people from moving from homelessness to a more stable housing situation. With jars and beans, Liz showed how we spend money for housing per year in Minnesota: $330 million on the mortgage interest deduction, $28 million on homeless prevention services and housing, and $350,000 on shelters. With the Governor's budget,
$700 million is proposed per year in property tax relief and one time increase of $1.5 million for people at risk of homelessness or experiencing homelessness. And our advocacy can change Minnesota's investment in housing and services by increasing our investment of housing by $25 million to Minnesota Housing Finance Agency and the Department of Human Services.
Breakouts included information on Telling Your Story to Legislators, Advocacy as Spiritual Practice, and Homes for all: Questions, Leadership, and Committees. These breakouts gave people skills and information on making the ask to our Legislators.
The main theme this evening is calling, emailing, visiting, and building a relationship with your legislator is not as hard as we think, a way to practice your faith traditions, and keep our legislators helping make the Journey to Home.
Rooted in the Common Good
With colorful paper butterflies hanging from the ceiling of the Howard Conn Theater at Plymouth Congregational Church, five of sixteen Senior Clergy of the Downtown Congregations to End Homelessness delved into the similarity of the Jewish, Muslim, Christian and Unitarian traditions in working for the common good.
The discussion ranged from where the core of working for the common good comes from in each tradition to the importance of being involved in policy work to the separation of church and state.
We Rev. Justin Schroeder shared how in the Unitarian Universalist tradition, "We are not whole until there is wholeness around us." People of faith have the responsibility and mandate to ensure and work until there is wholeness and justice – the common good.
By serving our neighbor in their basic needs is one step in working toward wholeness, but Father Bauer says, "Fulfilling basic needs is not enough."  Direct Service of feeding, clothing, and providing basic necessities is a core part of caring for our neighbor, but to dig deeper isa requirement of living out faith. "We are called to go beyond, to dig deeper; to transform the idea of serving," said Makram El-Amin of Masjid An-Nur. Serving our neighbor with basic necessities is not enough, but ensuring a just system where all people can benefit. Housing is a key piece to keeping people stable and ending homelessness in our community will have an impact on the whole region.
But what about the separation of church and state?  Rabbi Marcia Zimmerman, from Temple Israel, gave a helpful distinction: "We can say anything about issues, but not about candidates. The moment we are silenced and abdicate the responsibility of speaking out, we (the faith communities) become irrelevant." This is our role to speak truth in the midst of social injustices, to be the public will for our policy makers and elected officials. It is the will of the public that will end homelessness. And we are called to be at the center of it, calling for the common good of the community.
_____________________________________________________________________________
Panhandling: A Community Response Part 2
Miss our panhandling forum? You can now watch video of the whole forum and hear what members of our community have to say about what will end panhandling.  Read a full story about the forum:
The Monday, October 25 presentation Panhandling: A Community Response Part 2 brought together nine community leaders who highlighted the reality of the giver and receiver in panhandling, the underlying problems and real solution.  About 160 persons attended the event at Plymouth Congregational Church in Minneapolis.
Inspector Kris Arneson pointed out that the "perception of safety" is a critical issue for businesses, employees and visitors to downtown Minneapolis.  Persons perceive a potential harm or a threat when they see panhandling. Shane Zahn, with the Minneapolis Downtown Improvement District SafeZone Operations, stated that in a survey of over 6500 persons in Minneapolis panhandling was seen as the greatest problem.  In three separate surveys, panhandling has remained the chief concern.  Panhandling arrest are one way to respond to the situation.  To date there have been 371 arrests for panhandling.
It was pointed out by other panel members that arrests do not get to the prevention or the long term solutions to panhandling.   Monica Nilsson, Director of Street Outreach and Community Education at St. Stephen's Human Services, clearly stated that the current responses to panhandling are not sufficient.  "We are not happy with any current responses" to panhandling.  "I'm capable of giving more than socks, granola bars and blankets," referring to the need to have a response that solves the underlying problems that give rise to panhandling.
Janice Anderson, Director of Christian Living at the Basilica of St. Mary, emphasized that panhandling really "exposes the brokenness of the community".  The community is further weakened by "fear, compassion fatigues, insufficient responses" when we are only "treating the symptoms."
Fred Bue is a single father of three children who shared his perspective and experience as someone who panhandled out of desperation to pay for the basic necessities for his family.  He now works in security and social services and is interested in educating the community about poverty and family homelessness.  Fred stated, "as long as there is ignorance or need you will have panhandling."
When an audience member asked the question, "Who pays for panhandling?"  many agreed that we are already paying for panhandling through the revolving door of jail or detox.  Andrea Christenson who practices commercial real estate downtown stated that "we need to help people reenter the economy" and "to convince and educate the taxpayer" about the long term solutions to ending homelessness.  Shane Zahn of the Downtown Improvement District stressed that the Give Real Change initiative recommends that instead of giving to those asking for money on the street people should donate to the Give Real Change Campaign which supports the work of organizations working to end homelessness.
To the audience question of "how can I do more?" Janice Anderson answered, "We have to advocate."  Religious congregations have been strong on charity, but we need both charity and justice.  She strongly underlined that "Charity is listening to the stories of those in poverty; justice is telling the stories to people in power."  To do more, we can all advocate to our legislators and public leaders!
There are a number of ways you can donate your time and talents, donate financially and give your voice to the work being done to end homelessness.  Click here to find out how you can get involved.
______________________________________
 The Government Shutdown Is Over:
How Do Homeless Programs Fare?
After a full and tumultuous legislative session, we have come to the end with a Government Shutdown and a Special Session. The special session began on yesterday, July 19, at 3:00pm. Working quickly and into the evening and early morning, the Minnesota Legislature passed spending bills, which went to the Governor this morning, July 20, for his signature, thus ending the shut-down.
Our work this session was to ensure funding for programs remain intact that work to prevent and end homelessness, in spite of a $5 billion budget deficit. We advocated for all homeless program funding, for General Assistance, and for Minnesota Family Investment Program. In this regard, our voices have been heard as homeless programs fared well in the final budgets. Read more about what programs remain intact. 

______________________________________________________________________________________________________________________________________________
Governor Dayton and Representatives Speak to Crowd of 0ver 300 from the Faith Community
At the end of what he himself deemed his sermon, Governor Mark Dayton received a standing ovation from a full house at the Westminster Presbyterian on Monday evening.  His message was a somber call to duty.  With a budget deficit of 6.2 billion dollars and revenue increase and budget cuts, the future for programs and additional funding from government support is in flux.  Gov. Dayton acknowledges there is no easy solution, but the answer to ending homelessness depends on the willingness of those in our society who have, to help those who do not. He stated that we need to help, "Not just homeless, but the voiceless…It's about our values, both individual and collectively."
The message was loud and clear: our voices need to be heard at the state capitol.  Dayton emphasized throughout his speech that the budget cuts are going to be very difficult and have a devastating impact on Minnesotans, but that only gives more reason for members of the community to get involved.  Gov. Dayton noted, "It's not just about dollars, it's about people…It's about a basic principle of faith and knowing what is right and wrong."
Others who spoke Monday evening included Senator Dibble, Representative Morrie Lanning and Representative Karen Clark.
Having been an advocate for homelessness and poverty for many years, Representative Morrie Lanning has seen homelessness increase since the early 80s. He believes that ending homelessness and poverty is a worthy goal. "Government does have a role, business has a role, and faith communities have a role," he commented, "as we need to help people work their way out of poverty." He is very committed and is carrying a bill to fund more supportive housing projects, which helps people work their way out of poverty.
Senator Dibble emphasized we are building a vital movement within our community and it has been only gaining steam, which is how we will succeed in ending homelessness. He stated that it is a matter of, 'Reaching out, human to human, helping your own community." He acknowledged that homelessness is a result of a combination of issues that need to be grappled with, such as the downturn in the economy and the failing housing market.
Outside, as the blustering snow and wind was outside the church doors, Representative Karen Clark shared several facts including:
·         Tonight, on the streets of Minnesota, at least 13,000 people are without a home
·         47% of those individuals are children
·         About 25% are veterans
·         33% of the women who are homeless are victims of domestic violence
·         19-20% of homelessness in our nation is a result of foreclosure
The facts are wake up call. Homelessness, as Gov. Dayton stated, "Will not end, unless all areas of the community, business, religious, and government, join forces." As the Downtown Congregations to End Homelessness, we are joining forces with the community, with business, and with the government to ensure that people have safe, decent and affordable housing. We also need to be at the capitol, keeping our legislators accountable by keeping the homeless programs funded. We need to be a voice for those who cannot speak that need a hand up out of poverty.
_____________________________________________________________
Governor Dayton Coming to January 31st Event
We Can End Homelessness, but will we? It takes the will of the public to end homelessness. As members of this interfaith community, we share a common goal to seek justice and be co-creators for the common good of our community.  Let's create a community where people don't live on the street. One way to end homelessness is to educate yourself, to be part of the conversation in our community and with your legislators.
We know the solutions to homelessness: workforce housing, permanent supportive housing, outreach, self-support programs that help folks find employment, the solutions are not only the right thing to do for the dignity of people, but also are cost effective solutions that save taxpayers money.
Don't miss this opportunity to go beyond charity of giving food and clothing to justice. Come meet members from other DCEH congregations, discuss the outlook for the legislative session, and how we can speak up together to end homelessness and poverty in our state. Be a part of the movement to End Homelessness! For more details, click here.
First Day of the 2011 Legislative Session
In the spirit of cooperation, the 2011 Legislative session begins today at noon as newly elected and reelected legislators take their oath of office at the capitol. The legislative leaders in the
House and Senate along with the Governor have been vocal about wanting to cooperate to solve the problems of the state of Minnesota.
Although there is a difference in many priorities, one of the collective legislative priorities is to balance the budget with a looming $6.2 billion budget deficit. With the budget deficit, Legislators will be making decisions about the depth of cuts and tax increases.
For more information on our priorities, go to DCEH at www.dceh.org. Follow us on Twitter, or Facebook to keep updated about the Legislative session, to learn more, and other information about ending homelessness.
We have an opportunity in this discussion to send Legislators the message that Ending Homelessness is a solution that is cost effective as well as creates a healthy community. Our opportunity as people of faith is to illustrate to our legislators that people of faith know that caring for the lives of those in our community who are struggling is sacred work.  Thank you for your efforts to keeping this movement going forward! Together, we WILL end homelessness! To read more, click here.
____________________________________________________________________
Sofas and Spokes a Success!
Thanks to all who donated furniture and bikes at our second annual Sofas and Spokes drive. We filled two trucks with furniture that will go to the St. Vincent de Paul store. 40 adult bicycles were donated and will go to our Bike Program which provides bikes to those in need of transportation for work, looking for work, getting to medical appointments and attending school.
The St. Vincent de Paul store can always use donations of furniture, especially couches. For more information on how to donate contact the store directly at 612-722-7882. The store has a limited area in which they will pick-up donations, call 651-608-0478 to see if you are within their pick-up zone.
We are always accepting donations of adult bicycles, especially those that will fit tall men. Volunteers are also needed to repair bikes that are donated. Call Benita at 651-641-1037 for more information.
…but last night I slept in my own home
With the opening of the oral history project on homelessness called, "Homelessness is my address, not my name," the City/County Office to End Homelessness who coordinates the implementation of the Heading Home Hennepin Plan to End Homelessness, gave awards to key partners in the last year of plan implementation. Along with the Downtown Business Council, Downtown Improvement District, Minneapolis Police Department 1st, and private donors Nancy Jacobs and Mark Sandercott, the Downtown Congregations to End Homelessness was honored to receive an award in recognition of the generosity and partnership in ending homelessness for people in the community. Our worked helped changed the sentence from "last night I slept on the street" to "last night I slept in my own home" for many people.
We are grateful to be so graciously honored and recognized for our work with the Office to End Homelessness, especially in the midst of other amazing nominees. The plan to end homelessness has been an instrument of focus and effectiveness for us to work toward Minneapolis and Hennepin County being a vibrant, healthy community. As clergy, staff and congregants of the downtown congregations of Jewish, Muslim, Unitarians and Christians, we come together as we all believe in working for justice, especially ending homelessness! We all believe in respect and dignity for all of humanity. Together, we celebrate this moment of people moving off the streets and into homes, but we continue to look forward for more people to be off the streets.
You can also become a part of this work by educating yourself, advocating, volunteering and giving to ending this in our community! To get involved, click here.
A Story from the Currie Avenue Partnership
Ellie showed up at Sally's (Harbor Light's shelter for women) night after night for 10 years, one could say that she "lived" there.  Ellie was staying at Sally's when she was diagnosed with breast cancer and began undergoing chemotherapy. Through the Currie Avenue Partnership Ellie was able to get connected to a case manager and move into her own apartment where she was able to complete her chemotherapy. Shortly after moving into her apartment Ellie had a mastectomy and completed radiation treatment. She is now in full remission and doing very well in her apartment! The stability of having her own apartment has allowed Ellie to receive ongoing care from a primary physician who is now helping her to deal with various other medical issues.  Ellie reports that her new apartment is the nicest place she has ever lived and that this is the happiest that her life has ever been. The CAP helped to end Ellie's homelessness and will continue to end homelessness for folks who have experienced long-term homelessness as we move towards reaching our goal of housing 150 people by November.
Panhandling: A Community Response
On Monday, August 23rd, around 300 people gathered together at the Basilica of Saint Mary to gain understanding for how we  respond to solicitation for money from a person panhandling. The event was hosted by the Downtown Congregations to End Homelessness and zAmya Theater Project. Powerful conversation focused on the dilemma of giving money to a person signing, which is what those who ask for money on the street call it. Members of the Downtown Congregations to End Homelessness, people from the business community, former panhandlers and other community members came together to discover how we address those who panhandle.
Through one-scene acts by the zAmya Theater Project, the crowd was presented information about the Minneapolis laws on panhandling as well as two possible situations of people asking for money. The audience provided input into the situations by identifying what was dissatisfying with how panhandling encounters end. The conversation continued with the audience providing options for what would create a better interaction from both perspectives.
The compassion in the room was palpable, but questions were raised about compassion fatigue by folks who see panhandlers on a daily basis when walking to and from work. Through all of the evening, conversation was abuzz as we all were searching for short term solutions to address this issue.
So, what do we do?
Seeing an increase in panhandling in Minneapolis, there was a yearning for a short term solution, but no easy answers about whether to give money or not give money were given. Suggestions were given to provide resources of shelters and organizations to folks who are panhandling. Many of the local shelters and community organizations are full and working at capacity to provide assistance to large numbers, so many shrug off the available resources or simply never make it to the organization.
However, one organization goes out on the street to connect with people and that is St. Stephen's Outreach Team. By calling their office, one of their staff will go out to the panhandler and connects with them and will try to help address their present needs. Beyond that, St. Stephen's also builds relationships with folks and will work with each of them to obtain housing. In two years, they have housed around 200 people from the streets.
So do we give money or not? An alternative to giving money to someone on the street is to give through the Give Real Change campaign. The money donated goes directly to programs which will help folks get off the street.
We all yearn for short term solutions, but what is deeply needed is to get folks living on the streets into housing. Therefore, to address the issue of panhandling, we need to address bigger, more systemic issues. In Minneapolis and Hennepin County, the community has created a ten year plan to end homelessness called Heading Home Hennepin! This is an innovative plan with solutions to homelessness, which are: prevent homelessness, produce housing that lower income folks can afford, provide outreach, improve the systems which addresses homelessness, provide people with supportive environments to get them on their feet, and improve service delivery. It was through Heading Home Hennepin that the St. Stephen's Street Outreach was initiated.
To really address panhandling and homelessness, we as a community need to be a part of the long term solutions by responding and participating in this plan. As the Downtown Congregations to End Homelessness, we know that keeping people informed about the trends in homelessness and educating ourselves is important and essential. However, in order to end the cycles of homelessness, speaking up is equally important. Our community leaders and public officials need to know that we are concerned about this issue and that the solutions are available. If you would like to speak up about this, join us! We are a growing network of folks ready to contact public officials and ask for solutions, not band aids.
Become a part of our network today to end homelessness in our community!
Stay tuned for Part 2 with focus on resources and long-term solutions. Details to be announced.
Check out stories from the media outlets about the Panhandling workshop:
Hundreds Meet in Minneapolis To Understand Panhandling by WCCO
How Do You Respond When Asked for Money by Minnesota Spokesman Recorder
A Currie Avenue Partnership Success Story
Jon was at one time your average middle-class citizen that owned a home in the suburbs, was happily married, and was employed.  Jon's wife Sally was a talented painter; however was unable to actively paint after being diagnosed with cancer several years ago.  Jon became devastated after his beloved wife passed away a few years back – she was his best friend and largest support.  His depression spiraled down and out of control – to the point where he couldn't get out of bed and didn't want to envision his life without his wife.  Jon eventually lost his job and therefore couldn't pay the mortgage.  He was forced to file for bankruptcy and nearly lost everything he owned.
Jon had nowhere to go after he lost his home.  He moved into the Salvation Army shelter for over one consecutive year – this seemed to be Jon's only option.  A couple months ago, Jon learned of the Currie Avenue Partnership (CAP) and felt a sense of hope he hadn't felt in a long time.  He happened to qualify for the program and a month later moved into a one-bedroom apartment.  He is relieved he now has a Case Manager to care and support him and a roof over his head; hence enough comfort to plan for his future – something he hasn't imagined in a long time.  He plans on enrolling in school to learn a new trade, and soon after returning to work.  The affects of having a home is already making a difference – he is able to better manage his depression and found much joy and pride from hanging his wife's beautiful paintings on his new living room walls.
2010 Legislative Session Wrap Up
With the growing budget deficit, the 2010 Minnesota legislative session quickly turned into a chaotic and challenging mess with much disagreement on how to solve the budget issues. As the sessio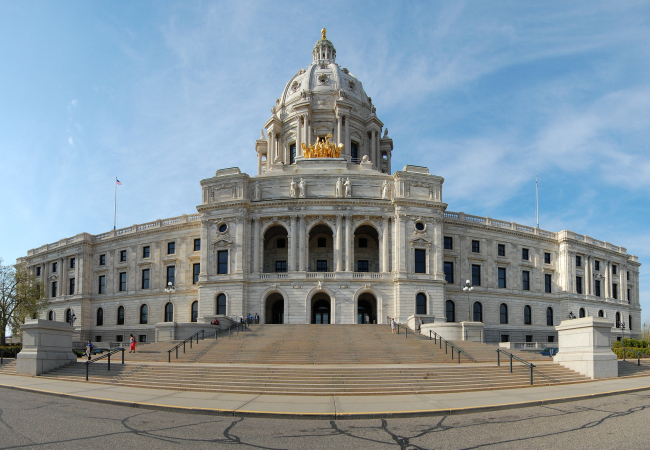 n winded down to a close, legislators faced a $3.5 billion gap in the budget. In the last few hours, a budget deal was reached with cuts and no revenue increase. The cuts to the safety net programs were minimal; however, there were funding shifts made as well as decisions put off for the next session. Projections are looking at a $5.5 billion shortfall. Read the 2010 DCEH Advocacy Wrap-up for a more in-depth look at the 2010 Session and what is happening on the national level.
Due to the focus on the budget crisis, the session ended without much progress forward. However, your participation during this past session was critical to saving the safety net and keeping it mostly intact. Together this session, we voiced our concern for these programs through letters and phone calls, by attending rallies as well as by writing letters to the editor to build awareness in the public. We would love to hear how this session was for you. Please complete a survey so we can improve our work and create rewarding advocacy opportunities.
Thank you for your hard and diligent work this session! It is important that we keep speaking out! With elections coming up this fall for Governor, House and Senate, we hope you will stay connected to the issues and ask the candidates where they stand on the issues of homelessness and poverty.
Gubernatorial Candidate Forum



Eight vying for the job of Minnesota Governor were present at the Candidate Forum presented by the Downtown Congregations to End Homelessness and Joint Religious Legislative Coalition on Monday, May 24th. Those in attendance were Democrats Mark Dayton, Margaret Anderson Kelliher and Matt Entenza, Republicans Leslie Davis and Bob Carney Jr., and Tom Horner, Rob Hahn and John Uldrich from the Independence Party.
Two people who had experienced homelessness shared their stories before any questions were asked to the candidates as a way to set the tone and focus of the forum. Each of the eight candidates were then posed with the question "How do your core values or your faith inform your understanding of the role of government in homelessness and poverty issue." Moderator Jim Gertmenian, Senior Minister at Plymouth Church in Minneapolis, followed up by asking candidates questions focusing on the areas of Housing, Health Care and Jobs.
video from The UpTake, www.theuptake.org
Currie Avenue Partnership Update
On Tuesday April 27, The Downtown Congregations to End Homelessness presented the Currie Avenue Partnership with an oversized check for $130,00 at the Hennepin County Board of Commissioners meeting. The Currie Avenue Partnership was featured at the meeting as a Hennepin Highlight, complete with a video presentation showing the apartment of one of the first people who obtained housing under the partnership. 10 people are already in housing due to the Currie Avenue Partnership and we are well on our way to reach our goal of housing 150 people in the next year!
Save GAMC Rally on the Opening Day of Session!
The 2010 session of the Minnesota Legislature began on February 4th in the midst of cheering and chanting from concerned Minnesotans about the loss of General Assistance Medical Care. Over 700 participants, many from DCEH congregations, listened as Rabbi Marcia Zimmerman from Temple Israel pumped us up about the need for spiritual audacity. We listened to GAMC recipients and what losing their health care coverage would do to their lives. A hugely sized GAMC bill and pen were brought through the crowd and later presented to Governor Tim Pawlenty's office along with baskets and baskets full of pens, all in an effort to get him to reinstate GAMC funding. We are here to protect the poorest and sickest Minnesotans. Check out some of the media coverage of the GAMC rally!
Kickoff to a Year of Advocacy
On Monday January 11th over 70 DCEH congregants and community members gathered at Central Luth er an Church for a one-stop advocacy workshop on ending homelessness.  Cathy ten Broeke, Director of Heading Home Hennepin, gave an update on the Currie Avenue Project and talked about some of the challenges that still remain in the push to end homelessness. Key issues for the upcoming legislative session include the unallotment of fu nds for General Assistance Medical Care (GAMC) and cuts in funding for Emergency General Assistance.  Jeannie Fox from the Minnesota Council of Nonprofits discussed the dos and don'ts of advocating and the most effective ways to have your voice heard.
Participants sat at tables with others from their legislative districts and were given time to discuss how faith and poverty connect and what actions and strategies they could take as a district.  At the end of the evening everyone was asked to fill out a call to action form outlining what actions they would take in an effort to end homelessness.   57 people committed to taking 203 actions in the coming months. These actions included attending their precinct caucus February 2nd, reading and taking action on Action Alerts twice a month and writing a lett er to the editor regarding ending homelessness. People placed their call to action forms in a basket at the front of the room as everyone sang "We Are Called." This hymn served as a reminder that through advocacy and working together we are able to act with justice and energized the crowd to take action in the fight to end homelessness.
Launching the DCEH Bike Program
Last September, the DCEH collected over 100 used bikes to be refurbished and given to clients of four DCEH member outreach programs: St. Vincent de Paul at the Basilica of Saint Mary, the Restoration Center at Central Lutheran Church, The Dignity Center at Hennepin Avenue Methodist Church, and the Outreach Ministry at St. Olaf Catholic Church. The mission of the Downtown Congregations to End Homelessness Bicycle Program is to offer reliable bicycles to adult Minneapolis residents as efficient and ecologically responsible transportation for work, job search appointments, and post-secondary education.
Each of these programs will identify 4 clients per month, who are experiencing barriers to transportation, to receive a bike. Upon receiving a bike, the clients will attend a bike safety and maintenance class where they will learn how to clean their chain and fix a tire as well as safety tips, such as wearing a helmet, and road rules for biking. The first recipients will begin to receive bikes in April.
A big thank you to all who donated bikes and to all our volunteers helping to fix bikes!  Four volunteers from the DCEH have been busy working in partnership with Mr. Michael's Recycled Bicycles, a bike shop in St. Paul, to fix the donated bikes.  One of our volunteers, Bill Gaines from the Basilica of Saint Mary's, has enjoyed assisting with the program as he says, "I like bikes.  I like working on bikes.  If having fun makes someone else's life a little better or easier then the grease on my hands is all the more fragrant."  Over 50 bikes are fixed and ready to go! We are still in need of more volunteers to repair bikes, to learn how you can volunteer click here.
Finding Solutions on Currie Avenue
For the first time in many years, shelters are continually overcrowded with guests, 700 people are sleeping in two  shelters on the same block of Minneapolis, over 300 people are sleeping on the streets staying warm in sleeping bags from China.  Rather than open more shelters or build more housing, Heading Home Hennepin, along with the Downtown Congregations to End Homelessness and the Downtown Business Council are raising money for a solution to ending homelessness for people currently in shelter.
The initiative will connect people with mental or physical disabilities living on the street to a case worker. The case worker will be an advocate for them to access housing and services for which they are eligible. With the money raised by the DCEH and the Downtown Business Council, 10 case workers will be hired to help the shelter guest find housing and become stable.  One worker will work with 15 clients. Moving guests into housing will take the strain off of our emergency system and end homelessness for 150 people. This is a solution that will have a direct impact on the Minneapolis Community.
Letter to the Editor in the Star Tribune
Senior Clergy Tour Project Homeless Connect
The 8th annual Minneapolis Project Homeless Connect occurred at the Minneapolis Convention Center on December 7th. More than 1600 people experiencing homelessness received a variety of services at the event. Over 400 providers offered services that ranged from assistance searching for housing to help obtaining birth certificates and state identification cards to legal aid.
County Commissioner Gail Dorfman, who is committed to ending homelessness in Hennepin County, gave a tour of the event to DCEH Senior Clergy. Those in attendance were Kristen Jacobson for Rick Nelson, Aron Kramer, Makram El-Amin, Jim Gertmenian, Mark Pavlik and Tim Hart-Andersen. One highlight of the tour was the dental area where a makeshift dental office had been set up, complete with x-ray machines and examination chairs, allowing clients to receive x-rays, tooth extractions and referrals for follow-up service. The last stop on the tour brought the Senior Clergy to a room where clients were receiving haircuts, with some leaving the room looking like totally different people. The Senior Clergy were amazed at the size of the event and wide array of services that were offered.
Of the nearly 1300 people who volunteered at the event over 100 (roughly 13%) of the volunteers came from DCEH congregations! The majority of Project Homeless Connect volunteers were paired with a client who they spent the day with visiting the different service providers, eating lunch and sharing life stories.
For information on how to volunteer or about the next Project Homeless Connect occurring on Monday March 29, 2010 visit http://www.homelessconnectminneapolis.org/.
Sofas and Spokes Successful!
A steady stream of people pulled into the Hennepin Avenue United Methodist Church parking lot on the morning of September 26th to donate bike racks full of bikes and vehicles filled with furniture. Sofas and Spokes came from everywhere! People rode the bikes into Hennepin Avenue to be dropped off. Carts loaded with furniture were wheeled over from neighborhood apartment buildings. The trucks began to fill up fast with donations.
In total, the Downtown Congregations to End Homelessness collected a truck full of furniture for the Vincent DePaul Thrift Store
and 93 bikes for the DCEH Bike Program to begin in the spring of 2010. Jerry Edwards, from the First Unitarian Society, brought bikes that he had stored in his garage because "here is a wonderful cause to donate them to."
Sitting around his home, Craig Gustafson from Hennepin Avenue United Methodist Church had three bikes that were not being used. He brought his bikes so that people who don't have a bike have access to one.  "This isn't about a tax write-off, but about getting someone who wants a bike one especially if transportation is an issue."
A bike has been an important mode of transportation for John. A year and a half ago, John lost a stable job he had for many years. Since then, he has been searching for another job and has struggled to find a good, stable job with the economy in a recession. John is without a car, but does have a bike, which allows him to make his interviews and appointments. Not only does it get him to his appointments, a bike allows him to maintain his connection to his community. On Sundays, John bikes to his suburban congregation to play in his church band. Without a bike, John would be isolated and would experience many more barriers to employment.
Like John, transportation is an issue for many with low incomes or people who are unemployed and looking for a job. Access to transportation has implications for where people live and where they work. For Eric Berg from St. Olaf Catholic Church, donating bikes makes sense, "I like the idea of bikes going to folks that can use them to get to work. You know where the bikes are going."
The bikes will be going to folks beginning next spring 2010 when the DCEH will launch the Bike Program. Along with the bike, helmets and locks will be given out to participants from the direct services ministries at St. Olaf, the Restoration Center at Central Lutheran, the Dignity Center at Hennepin Avenue United Methodist Church, and the Vincent de Paul Ministries at the Basilica of Saint Mary. Now with the 93 donated bikes, we can make a difference in the lives of people!
Called to be Faithful Minnesota: A Witness of Lament
On Tuesday, June 30th, people of faith gathered for a witness of lament to ask Governor Tim Pawlenty not to abandon the health of Minnesota's citizens especially those who need it most. 40 people from the Downtown Congregations to End Homelessness stood alongside other people of faith on the capitol steps and listened to faith leaders from the Native American, Hindu, Islamic, Jewish and Christian traditions.We also delivered flowers and cards to the Governor asking him to not forget the vulnerable in our society.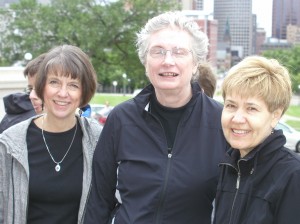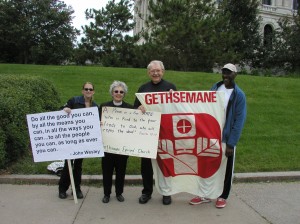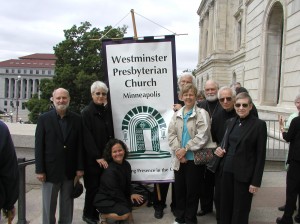 \
______________________________________________________________________________
The Downtown Congregations to End Homelessness (DCEH) is an interfaith collaboration of 16 downtown Minneapolis churches, synagogues and mosques working together to end homelessness and poverty. DCEH focuses on shifting from an immediate needs approach to long term solutions through a combination of education, advocacy and action. Through learning and volunteer opportunities for congregants, community partnerships, and development of effective strategies and programs, the DCEH is committed to impacting the community around us to decrease homelessness.