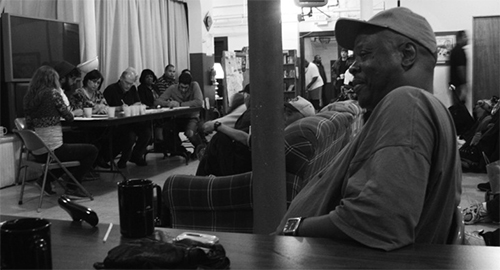 Beginning in the 1980's, the federal and state governments began to disinvest in the urban areas across the United States. The allocation of resources shifted from housing assistance to defense spending. During economic stagnant periods and when markets fail, it is the people in poverty that suffer the most.
Between 1981 and 1983 the percentage of the federal budget for housing assistance went from 20% to 6%.
In 1960, the richest 20% of humanity had 30 times as much as the poorest 20%.  In 2000 the gap was 90 times.
Government intervention in the housing market is needed to end homelessness.  The market provides housing for mid to upper income folks, but do not provide The government spends more today on housing subsidies, but it subsidizes the wealthy with mortgage income tax deductions.  It is argued that these tax deductions are needed to promote home ownership, but congressional studies indicate that they have no impact on home ownership.  Rental subsidies have either been frozen or eliminated.  For 80% of the homeless it is an economic issue.  Those in poverty are the most generous 5% in giving, breaking the stereotype that this group is not resourceful and undeserving of help.  There are mental health issues and alcoholism in every sector of society, but those who are not poor have resources available for help.  This is the most visible group of homeless, even though they are not in the majority.
Homeless people have been perceived as "the problem", but it is really a symptom of poor economic health in the low-income community.  Redefining the problem as an unjust society with those who are getting more than their share of the economic pie is the beginning of a solution.